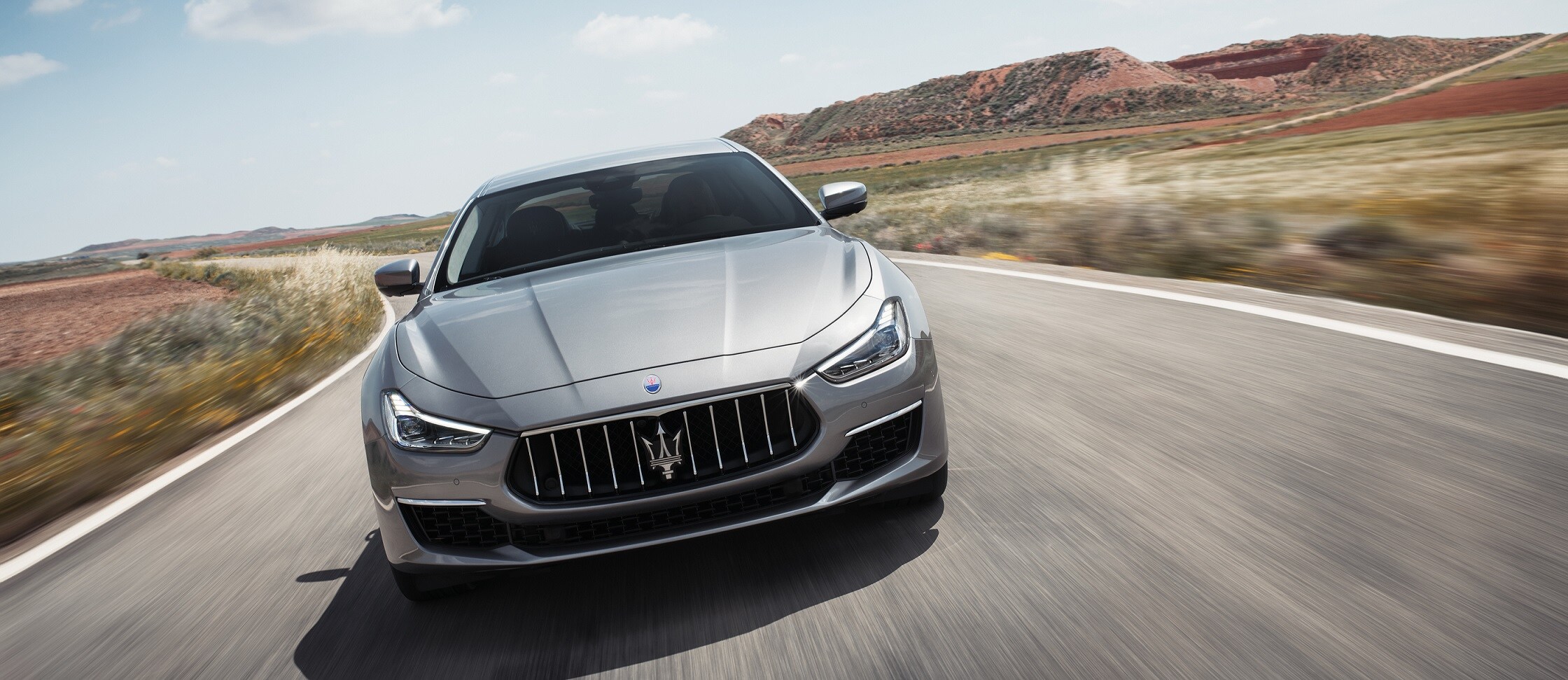 New Maserati Ghibli
For Sale in Atlanta, GA
Witness the New Maserati Ghibli in Action on the Roads in Atlanta
The latest Maserati Ghibli offers midsize luxury in a sedan with tons of style and Italian flair. Of course, that is what you would expect from the legendary Maserati brand. The Ghibli is one of the Italian automaker's more popular sedans. The Ghibli comes in three different trims and offers a range of luxury features with each package. With its sporty design and tech-savvy interior, you will love driving the Ghibli on highways in Roswell with the 3.0-liter V6 engine that delivers an impressive combination of horsepower and torque.
Maserati Ghibli Overview
Like its namesake, the Ghibli drives like the wind, and it is one of the fastest cars in the luxury sedan lineup. The Maserati came from a two-door grand tourer in 1966 and continues the tradition of a sleek design with a large Ferrari-esque engine. The newest lineup of Maserati Ghibli models features one of the best-sounding and best-driving engines, according to critics, but it's the latest technology and comforts inside that make this sedan feel like a sports car.
While the Ghibli is known for having a sports car engine, it still rides smoothly like a sedan and offers tons of safety features. While it may not be a family car, it's definitely a sporty head-turner that demands to be driven to experience the best in performance.  Here is a look at some of the features and options available with the latest Ghibli models.
Standard Equipment & Safety
Drivers in Sandy Springs love the Maserati for its seamless design and sleek exterior, but the cabin is just as sophisticated with a large 8.4-inch touch screen display in the center console. The base Ghibli comes with Apple CarPlay, Android Auto, Bluetooth, and a 10-speaker Harman Kardon premium audio system, which is standard on the GranLusso and GranSport trims.
Technology
It's easy to stay connected in the Ghibli as drivers can utilize voice-activated controls for just about everything. Driver assistance features have also been included in the base edition, making it easier and safer for drivers to see their blind spots and stay out of accidents.
Inside of the Ghibli, you'll find 12-way power front seats with memory settings, as well as hand-stitched details throughout the quiet cabin. There are also more upgrades available for those who want carbon-fiber interior or high-glass Rovere wood veneer. Drivers also have access to standard remote start, hands-free power trunk, soft-close doors, power-adjustable rear sunblind, and a heated leather sport steering wheel.
Safety
Maserati ensures its vehicles offer the epitome of safety in the luxury sedan class. Safety features include the new Advanced Driving Assistance System (ADAS), which includes blind-spot monitoring, lane keep assist, traffic signal recognition, forward collision warnings, rearview camera with parking assist, automatic emergency braking, and many other features to keep drivers and their passengers safe.
Trims
There are three main trim levels available with the latest Maserati Ghibli. These include the base edition, GranLusso, and GranSport. However, there are also limited edition packages and a GT sports package available.
Maserati Ghibli (Base)
The Ghibli model is notably different thanks to its front grille inspired by the Maserati A6 GCS Berlinetta. It also includes triple side air vents and frameless door windows. The standard edition Maserati Ghibli offers a quick, turbocharged 3.0-liter V6 engine that delivers 345-horsepower and 369 pound-feet of torque. The engine is married to an eight-speed automatic transmission.
All of the new technology is available in this latest Ghibli, except for the Harman Kardon audio system, which is only available in the GranLusso and GranSport editions. This model also includes 19-inch wheels, keyless ignition and entry, leather upholstery, and an eigh-speaker audio system.
Maserati Ghibli GranLusso
The GranLusso has the same engine, but it's been tuned for more horsepower, delivering 424-horsepower and 428 pound-feet of torque. You can also add Q4 for all-wheel drive. The GranLusso also comes with adaptive LED headlights, a Harman Kardon audio system, and more driver assistance features.
Maserati Ghibli GranSport
For those who really want to experience the utmost in luxury, Maserati presents the GranSport, which also includes a similar engine with slightly more horsepower than the GranLusso. It also comes with an adaptive suspension, sport-styled front seats, and a surround-view parking camera. These models also come with adaptive cruise control and adaptive headlights. Some other extras are also included, such as a heated steering wheel, heated front seats, heated rear seats, and GPS navigation.
Packages
There are plenty to choose from, including the Edizione Ribelle Limited Series, which is limited to only 225 vehicles on the market. While it also has the GranSport trim, it comes with unique Nero Ribelle Mica Paint with a black chrome finish. It also includes black 20-inch dark wheels and carbon-fiber interior trim.
Other drivers may want to try the new Maserati Ghibli with a GT Sport package. This is available for all models and offers a more aggressive appearance. This Ghibli features a high-glass piano black wood trim and 20-inch dark Perseo wheels. It's unmistakable on the roads in Brookhaven and is quite fun to drive.
Leasing
Live the Dream. Lease a Maserati Ghibli Today
If you have ever dreamed of ever driving a Maserati, then now is your opportunity. You can now lease a brand new Maserati Ghibli at Maserati of Atlanta near Roswell. This is your extraordinary opportunity to drive one of the most incredible performance luxury sedans available for Atlanta drivers.
The Many Advantages of Leasing
If you have ever considered leasing, then you should look at all the great advantages that come with a lease. Here are some of the reasons why leasing a Ghibli is right for you.
Drive an Extraordinary Vehicle For Less
When you lease, you have the opportunity to drive a more extraordinary vehicle for less. That is because you are not paying sticker price for the vehicle. You only pay for the time that you lease your vehicle. That means you only really need to concern yourself with the low acquisition fee and the monthly lease fee.
Flexible Leasing Terms
When you opt to lease, you can choose how long you want to drive the vehicle. Leasing terms typically range from 24 to 60 months. This allows you incredible flexibility. In fact, you can drive a brand new vehicle every two years.
Vehicle Is Completely Covered Under Warranty
When you lease a vehicle, you don't want to concern yourself with repair costs. With a lease, the vehicle is completely covered under warranty. This allows you to spend more time enjoying your vehicle and less time concerning yourself about vehicle repair costs.
Easy Options At the End of Your Lease
At the end of your lease, you have two simple options. First, you can opt to purchase the vehicle, or you can simply return the vehicle to the dealership.
Why Lease a new Maserati Ghibli?
Maserati leasing allows you to drive one of the most exotic looking luxury sedans on the road. You also get to drive one of the best performance sedans in the world. Finally, the prestige of driving a Maserati exceeds that of any comparable German or British luxury vehicle.
Incredible Ghibli Leasing Deals Now Available
Acquire your Ghibli lease today. Whether you're in Sandy Springs or Marietta, visit our showroom at Maserati of Atlanta today. We look forward to making you an extraordinary deal.
Schedule a Maserati Ghibli Test Drive Today!
Isn't it time you got into a new Maserati Ghibli? You can see all of the new and used inventory available when you stop by Maserati of Atlanta. We are conveniently located near Marietta and offer the best selection of the latest luxury sedans. Why not stop by and take a test drive of our latest Ghibli models?  To learn more, please contact or visit us in person today!  We look forward to meeting you!